Event Info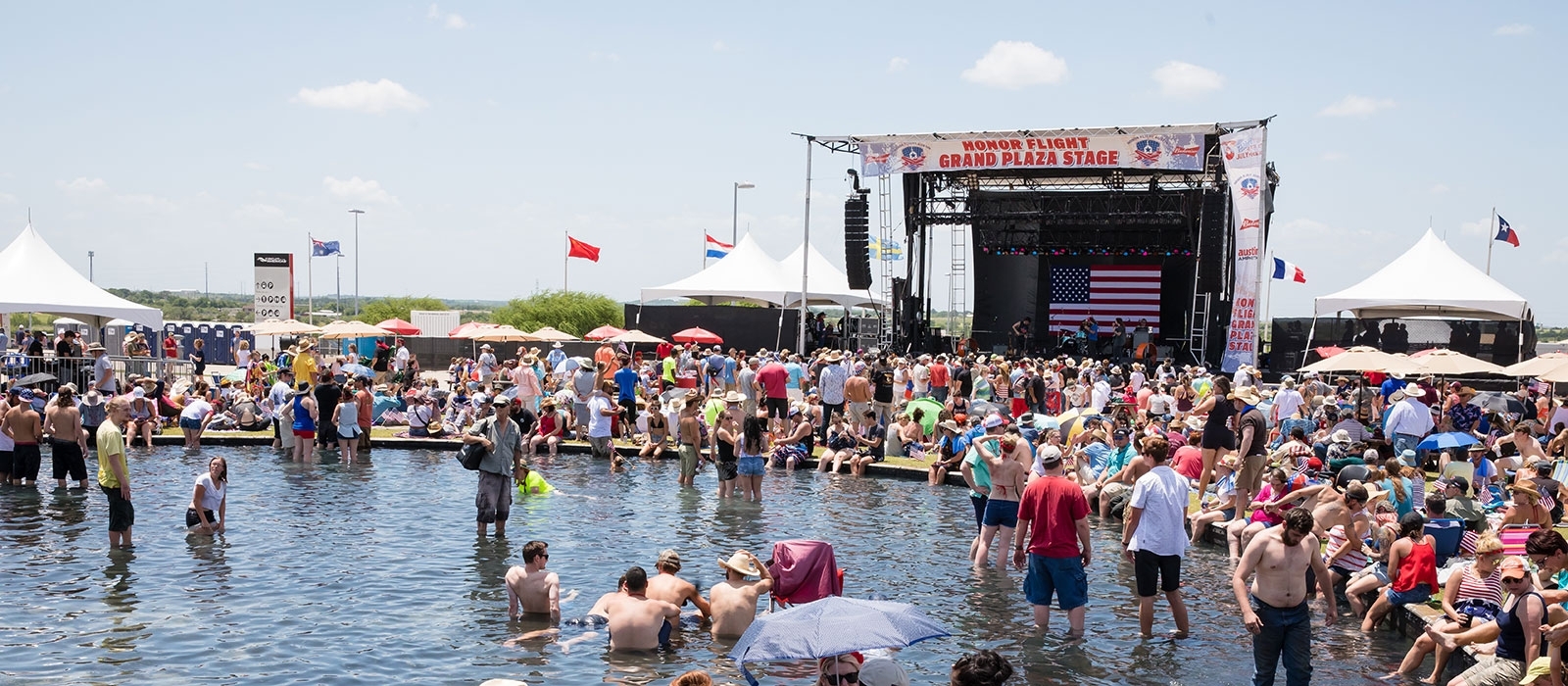 Timing - Thursday, July 4th
10:00 a.m. - Parking lots open
11:00 a.m. - Gates open
11:30 a.m. - Music starts
Music Lineup
Willie Nelson & Family • Luke Combs • Nathaniel Rateliff & The Night Sweats • Alison Krauss • Jamey Johnson • Steve Earle & The Dukes • Colter Wall • Hayes Carll • Ray Wylie Hubbard • Gene Watson • Billy Joe Shaver • Johnny Bush • Folk Uke • Raelyn Nelson Band • The Casey Kristofferson Band
The lineup on both stages is subject to change without notice.
Mobile Tickets & Mobile Entry
If you chose the mobile ticket delivery option at checkout, here's how to access your mobile tickets:
1) Log into ticketmaster.com using your mobile web browser or open the Ticketmaster App on your phone
2) Click on your ticket order for this show
3) Present your mobile device to the ticket-taker
For full instructions with helpful step-by-step images, check out this PDF.
Ticket Transfer
If you are the recipient of a ticket transferred to you through Ticketmaster, you MUST accept the ticket in your Ticketmaster account BEFORE 11:30 a.m. on July 4th. At 11:30 a.m. all ticket transfers cease, including the claiming of transferred tickets, and you will not have your ticket.
Please Note: Receiving an email from Ticketmaster about the ticket transfer does not constitute a transfer. You must follow the instructions in the email to log into your Ticketmaster account and accept the tickets, at which point they will be yours.
Getting to the Picnic
Standard and Upgraded Parking - Open at 10:00 a.m.
Standard parking is included with your ticket.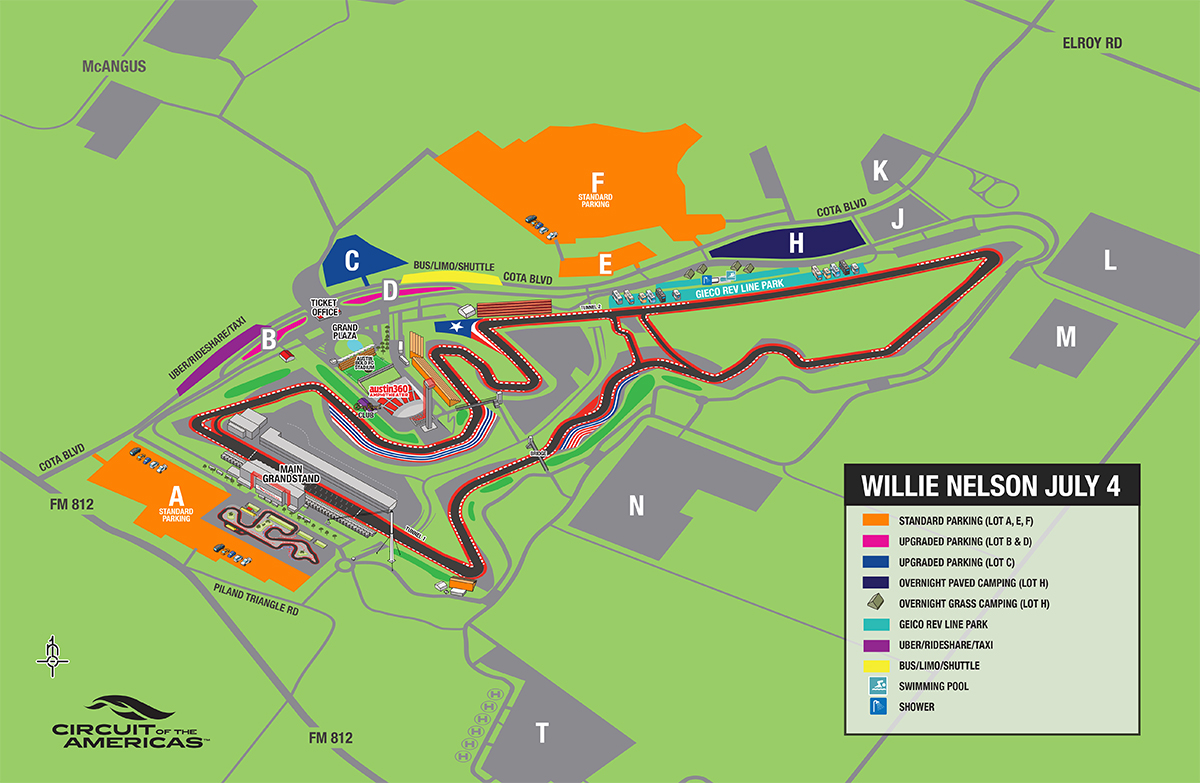 If you purchase a parking upgrade, please proceed to the lot designated by your upgrade pass on event day. If you would like a parking upgrade closer to the venue entrance, you may purchase space online now.
Overnight Parking
Overnight parking is also available to stay in an overnight RV space or grass camping. An overnight parking space allows for re-entry to the picnic throughout the day and is available for purchase online now or can be purchased at the box office on July 4th while supply lasts.
Driving to Austin360 Amphitheater
Use Waze to help you find the best route to specific parking lots. Open the Waze App and enter the lot you're headed to (ex: "Lot F - COTA"). The best route to that parking lot will appear.
ADA Accessibility
Accessible parking is available in Lots A, B, C, and D for those with a government-issued ADA hangtag or license plate. If you require ADA assistance from the venue entrance to your seat, please alert a staff member.
Grand Plaza Attractions
Stay tuned for more info about vendors and activities taking place during the picnic.
Food & Drink Options
As the event is scheduled to run all day, attendees may bring in one 1-quart sized clear plastic bag with food, per person. The standard policy also allows patrons to bring in one factory-sealed bottle of water, no larger than 20oz, per person. Please note no empty drink containers (camelbacks, empty open bottles, etc.) will be permitted.
There will be many food and beverage options within the gates for you to satisfy your hunger and quench your thirst, as well as water refill stations.
Please note: While tailgating is allowed in the parking lots, no ins and outs will be permitted once you have entered the venue gates unless you have purchased an overnight camping option.
How to Beat the Heat
You may bring one factory-sealed water bottle no larger than 20oz per person into the venue. No empty containers will be allowed. There will be hydration stations for guests to refill water bottles, as well as shady spots and misters for guests to cool off. Please drink plenty of water throughout the day to stay hydrated. We also recommend bringing sunblock (lotion sunblock, not aerosol sunblock) and a hat (or red bandana!) to protect yourself from the Texas sun. Small personal-sized umbrellas are also permitted inside the venue for shade.
Permitted & Prohibited Items
The following items WILL be permitted within the venue:

Binoculars
Blankets no larger than 60"x30"
Beach chairs with legs no taller than 6"
Baby strollers
Cream sunscreen (not aerosol cans)
One 20oz factory sealed bottle of water per person
One 1-quart bag of food per person
Point-and-shoot digital cameras
Small, personal-sized umbrella
Stadium cushions that sit directly on the ground
The following items WILL NOT be permitted within the venue:

Aerosol cans (including aerosol sunscreen)
Alcoholic beverages
Animals (exception for certified service animals)
Backpacks
Bags smaller than 8.5 x 11 x 5 inches with more than one pocket (please see full bag policy)
Bags or parcels larger than 8.5 x 11 x 5 inches (unless clear - please see full bag policy)
Bicycles, scooters, skateboards, skates, Segways, golf carts or other unauthorized means of transportation
Cameras with a detachable lens
Chairs with legs taller than 6"
Coolers, thermoses, or ice chests
Camelbacks, Nalgene bottles, or any empty beverage containers
Distribution of unauthorized promotional or commercial material
Food and beverage (Note: sealed, individual, plastic bottles of water are allowed, one per person, and one 1-quart bag of food per person is allowed)
Fireworks, explosives or other incendiary devices
Glass or metal containers of any style
Illegal substances
Items that may be deemed a safety hazard or annoyance to participants or guests (balls, frisbees, balloons, bells, musical instruments, etc.)
Large umbrellas
Tents or canopies
Video cameras, audio recording devices, and tripods
Weapons of any kind, including guns, knives, pepper spray, handcuffs
Venue Policies
Please note standard concert policy applies - no re-entry is allowed. No ins and outs will be permitted throughout the day after you have entered the venue unless you have purchased an overnight option. You can purchase overnight options online.
Event Inquiries
If you have questions about this event that are not answered online, please give us a call prior to the event at 512.301.6600.
#COTA
Share your experience with us on social media and stay tuned to Austin360 Amphitheater's Twitter, Facebook, and Instagram channels for any event updates, posts during the event, and photo recaps. We'll see you soon!