Margay Racing Ignite Series
MARGAY RACING IGNITE SERIES
COTA Karting is proud to partner with industry leader Margay Racing as a certified Margay dealer and Ignite Series host. The inaugural COTA Karting race schedule for 2019 will feature seven races, starting with a double-header on February 23-24. Joining the Ignite program will be the IAME KA100 Junior and Senior classes. Like the Briggs 206, the IAME KA100 engine has received high praise throughout the industry for its out of the box performance, parity and reliability. The simplified class structure will ensure racers get more time on track and less time in the pits, while not requiring racers to spend the entire day at the track.
FEB 23-24, 2019
2019 RACE DATES
OUR KARTS
SERIES INFO
REGISTER TO RACE
OR REGISTER BY PHONE AT 512-655-6301
WEEKEND SCHEDULE
Friday, February 22: Trailer unload and seat fitting for arrive & drives. Optional practice session from 1pm-5pm
Saturday, February 23: First day of racing: three rounds of practice, qualifying, prefinal and final
Sunday, February 24: Second day of racing: three rounds of practice practice, qualifying, prefinal and final
PRINTABLE WEEKEND SCHEDULE AVAILABLE HERE.
CLASSES AVAILABLE FOR ALL AGES
Kid Kart Honda (Ages 5-8)
Ignite Rookie (Ages 8-12)
Ignite Junior (Ages 12-15)
Ignite Senior (Ages 15+)
Ignite Masters (Ages 35+)
Ignite Heavy (Ages 15+, 200+lbs)
KA100 Junior (Ages 12-15)
KA100 Senior (Ages 15+)
2019 CALENDAR
FEBRUARY 23-24
*
APRIL 20
*
JUNE 22
JULY 20
AUGUST 17
SEPTEMBER 21
*
NOVEMBER 16
*
MORNING SESSIONS (*) RUN 8AM TO 3PM
AFTERNOON SESSIONS RUN 3PM TO 10PM
TIMES SUBJECT TO CHANGE
MEET THE FLEET
COTA Karting is a certified Margay dealer, your one stop shop for the parts and karts your racer needs to become an Ignite Racing champion. To purchase your own Margay kart, visit the COTA Karting shop, email us at info@cotakarting.com or call 512-655-6301.
RULES & REGULATIONS
CLASS STRUCTURE
KID KART
Age: 5-8 years old
Chassis: Open
Engine: Honda GXH50
Supplemental: WKA Rules
Fuel: 91 octane
Exhaust: Stock
Tire: 4.5/4.5 R60B Hoosier or 4.5/4.5 Envinco Blue
Bodywork: CIK plastics
Weight: 150 lbs
IGNITE ROOKIE
Age: 8-12 years old
Chassis: Ignite K2
Engine: Briggs LO206 Adult
Slide: Red, Briggs carb locking clamp must be in place with cap fully tightened at all times.
Tire: 4.5/4.5 R80 Hoosier
Bodywork: CIK plastics
Weight: 250 lbs
IGNITE JUNIOR
Age: 12-15 years old
Chassis: Ignite K3
Engine: Briggs LO206 Adult
Slide: Yellow, Briggs carb locking clamp must be in place with cap fully tightened at all times.
Tire: 4.5/6.0 R80 Hoosier
Bodywork: CIK plastics
Weight: 320 lbs
IGNITE SENIOR
Age: 15+ years old
Chassis: Ignite K3
Engine: Briggs LO206 Adult
Slide: Black
Tire: 4.5/7.1 R80 Hoosier
Bodywork: CIK plastics
Weight: 360 lbs
IGNITE HEAVY
Age: 15+ years old

Driver Weight: 200(lbs)+

Chassis: Ignite K3

Engine: Briggs LO206 Adult

Slide: Black

Tire: 4.5/7.1 R80 Hoosier

Bodywork: CIK plastics

Weight: 370 lbs

IGNITE MASTERS
Age: 35+ years old
Chassis: Ignite K3
Engine: Briggs LO206 Adult
Slide: Black
Tire: 4.5/7.1 R80 Hoosier
Bodywork: CIK plastics
Weight: 370 lbs
KA100 JUNIOR
Age: 12-15 years old

Chassis: Open

Engine: IAME KA100 or ROK VLR

Header: 22mm Factory Header

Tire: 4.5/7.1 R60B Hoosier or 4.6/7.1 Envinco Blue

Bodywork: CIK plastics
Weight: 320 lbs

KA100 SENIOR
Age: 15+ years old

Chassis: Open

Engine: IAME KA100 or ROK VLR

Slide: Black
Tire: 4.5/7.1 R60B Hoosier or 4.6/7.1 Envinco Blue

Bodywork: CIK plastics
Weight: 360 lbs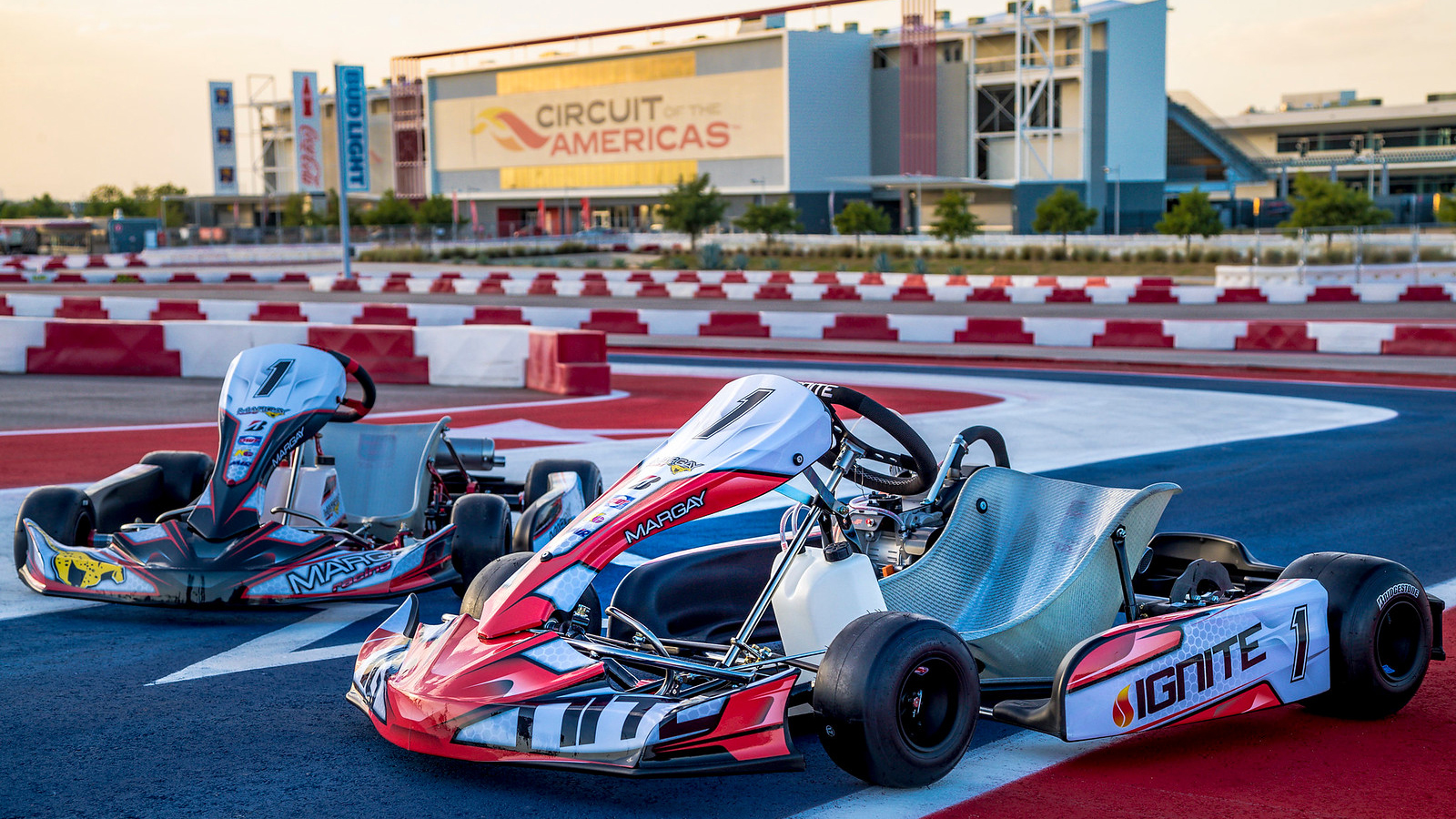 Questions? Contact us at 512-655-6301 or info@cotakarting.com