KNOW BEFORE YOU GO
WELCOME TO THE FORMULA 1 PIRELLI UNITED STATES GRAND PRIX!
We look forward to welcoming you to the Circuit of The Americas for a weekend full of action both on and off the track! Below you will find everything from parking and shuttle info, to on-site entertainment and everything in between.
Please note: this page will continue to be updated throughout the weekend with the newest and most up-to-date information.
DOWNLOAD THE COTA APP
Get the most out of your USGP experience with the soon-to-be redesigned and updated COTA App. With the race schedule, GPS map, food options, entertainment locations, chances to win prizes, unique photo frames and more, it's your easy reference guide to the USGP in the palm of your hand.
• Download COTA App for iPhone
• Download COTA App for Android
Make sure you have notifications on within the COTA App to get a special opportunity to win a big prize on race week. You won't want to miss this Haasome opportunity.
The COTA App will continue to be updated leading up to the USGP. Update the app under settings (the gear in the upper right corner on the home screen) on Friday, October 19th to ensure you have the most up-to-date information.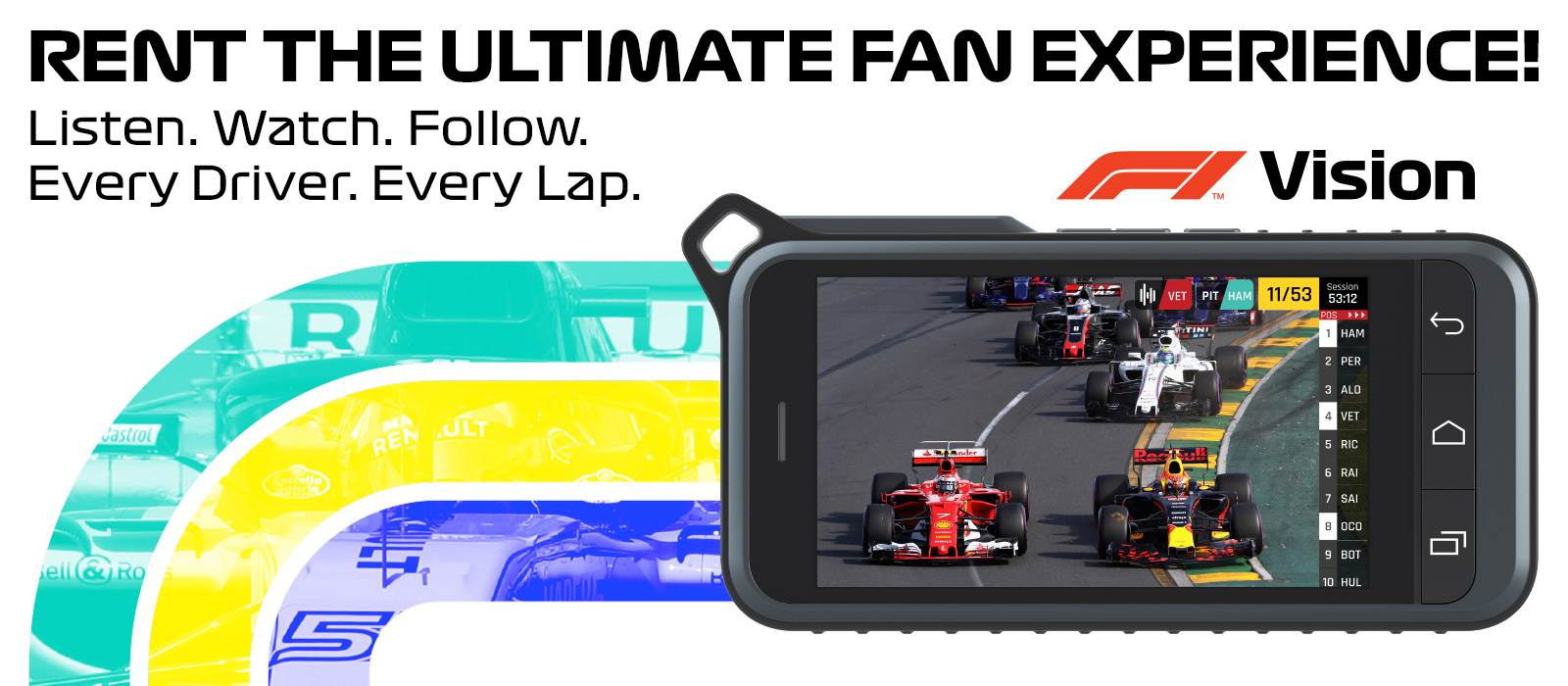 F1 VISION
Introducing F1 Vision - interact with race content in a brand new way this year. Rent a handheld F1 Vision device during USGP weekend to get:
• The broadcast feed, highlights and "Battle Cam" video views
• Personalized live audio options
• Notifications when pit stops occur
• Pit stop information, including tire compounds
• Driver & team statistics (lap times, intervals, sector times, etc.)
• Real-time Grand Prix running order and season standings
Order yours now ahead of arrival to COTA to ensure there's one reserved for you and for faster pick-up on-site during race weekend. Rent yours now for $109, or visit this location to purchase on-site.
TICKETING INFORMATION
Tickets are available at circuitoftheamericas.com, via phone at 512-655-6300, or at the COTA box offices.
Keep your ticket on you at all times. Exit and re-entry is permitted with your original ticket. All tickets must be scanned upon exit and re-entry, and all guests will be subject to security screening upon re-entry.
If you bring un-ticketed friends with you, that's ok! Tickets will be available for sale at the Grand Plaza and Main Grandstand Box Offices each day of the event.
MOBILE TICKETS AND MOBILE ENTRY
If you chose eTickets when you purchased your F1 USGP admission and you need assistance accessing those tickets, please review these step-by-step instructions.
BOX OFFICE HOURS
Starting Monday, October 15, the COTA Box Office(s) will be open for guests to visit and purchase tickets.
Grand Plaza Box Office Hours (beginning Monday, October 15)
• Monday - Thursday: 10AM - 5PM
• Friday: 7:30AM - 5PM
• Saturday: 7:30 AM - 8PM
• Sunday: 7:30 AM - 6PM
Main Grandstand Box Office Hours of Operation (beginning Friday, October 19)
• Friday: 7:30 AM - 5PM
• Saturday: 7:30 AM - 6PM
• Sunday: 7:30 AM - 3PM
IN THE EVENT OF RAIN...
Circuit of The Americas is a rain or shine venue, and Formula 1 cars race in the rain. However, the safety of our guests is paramount, and in the event of severe or inclement weather, there may be changes to the event schedule. Any changes will be posted via social media and updated online and within the COTA App as soon as they've been determined.
If immediate action is required to move guests to safety, announcements will be made via our public address system and video boards, and our staff will assist with directions to shelter.
UPDATE: The forecast has improved and we're in store for a beautiful weekend of racing! However, due to this past week's rains, the grounds around COTA are soggy in many places. We highly recommend wearing comfortable shoes you don't mind getting a little wet or dirty.
ON-SITE PARKING
Please head to the parking lot designated by your pre-purchased parking pass.
We recommend using the Waze App to easily find the best route to a particular parking lot. Open the Waze App and search for the lot you're headed to.
• Example: Lot F - COTA
If you did not purchase an on-site parking pass, you will not be able to park at COTA during the weekend. No vehicles will be permitted on COTA Blvd without a valid parking pass. Please refer to the Downtown Austin to COTA Shuttle information below for transportation options.
DOWNTOWN SHUTTLE
Shuttle passes are available in 3-day bundles or as individual days. All shuttles depart from Palm Neighborhood Park located across the street from the Austin Convention Center near 3rd and Red River and drop off at one of two locations on-site at COTA.
Shuttles run on a continuous loop from Downtown to COTA during the following hours:
• Friday, October 19: 7AM - 7PM
• Saturday, October 20: 8AM - MIDNIGHT
• Sunday, October 21: 7AM - 10PM
FRONT GATE SHUTTLE
Your closest drop point to the Circuit - the Front Gate Shuttle drops off and picks up at COTA's Grand Plaza entrance.
• UPDATE: 3-DAY, FRIDAY, SATURDAY AND SUNDAY FRONT GATE SHUTTLES ARE SOLD OUT. MCANGUS SHUTTLES ARE STILL AVAILABLE.
• $45 per day, $135 for the weekend
• Only available for advance purchase, no day-of sales
• Very limited inventory
MCANGUS SHUTTLE
With a drop-off and pick-up zone located a short walk away from the Grand Plaza on a dedicated path, McAngus Shuttles feature easy access to COTA at a discounted rate.
• $15 round trip per person each day
• $45 for a full weekend or round trips when purchased in advance
• $20 for day-of walk-ups
RIDESHARES & PRIVATE DROP-OFF/PICK-UP
Uber
Catch a safe ride to the USGP with Uber! Enter promo code RIDE2COTA for $20 off your first ride. The Uber drop-off/pick-up is located along McAngus Road.
Taxis/Ride Shares/Limos/Private Drop-Off & Pick-Up
All of these arrival and departure options will use the McAngus Road drop-off and pick-up area.
EVENT MAP
Click the image below to enlarge and view the entire map. It's a large file and may take time to load.
Download the COTA App to have a GPS map in the palm of your hand throughout the weekend to help you navigate COTA.
INTERNAL SHUTTLE
Once you're on-site, you can navigate the Circuit by utilizing our internal shuttles that run on a continuous clockwise loop. All internal shuttles are ADA accessible. Just hop on at any of these seven stops and you'll be off to your destination.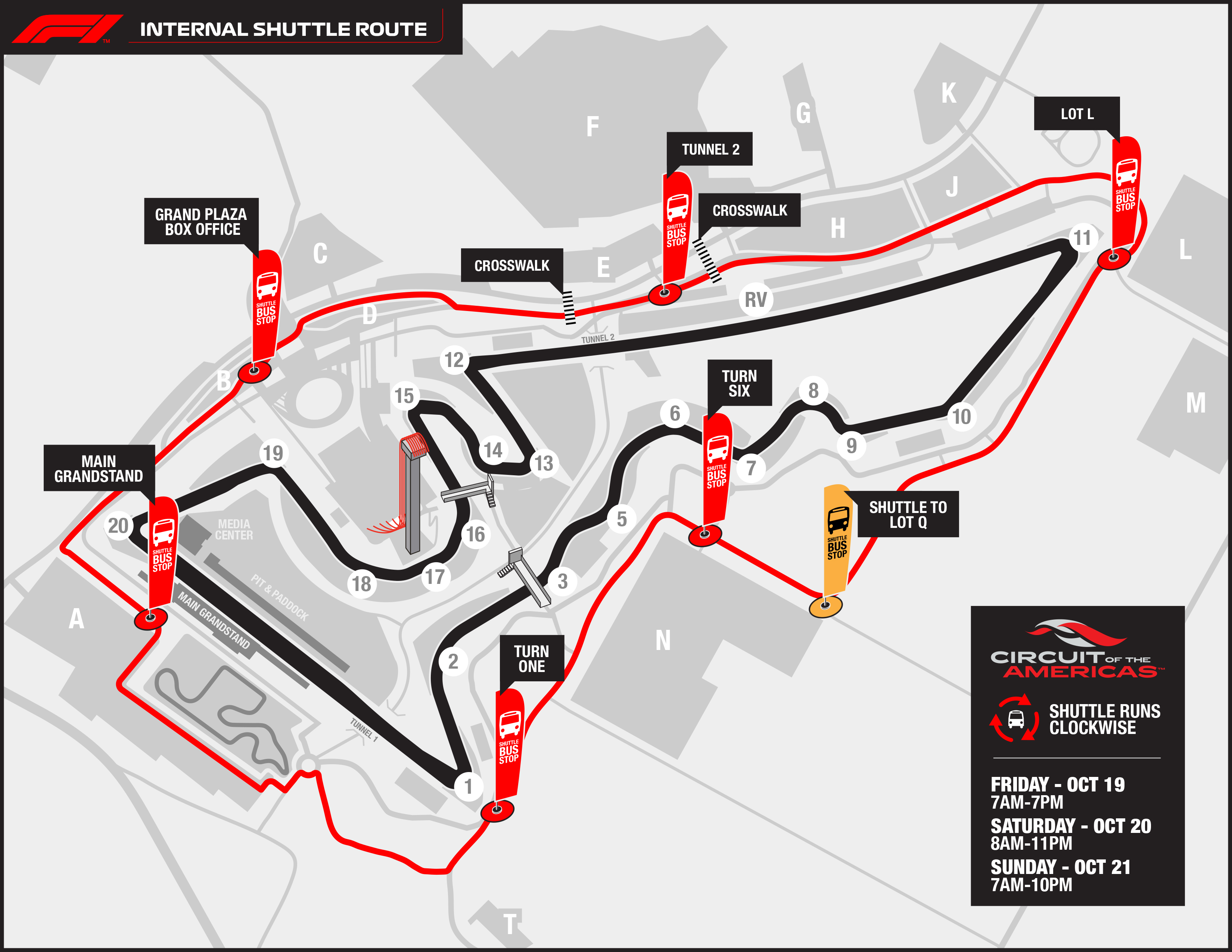 EVENT SCHEDULE
Download the COTA App for iPhone or Android for the most up-to-date event schedule throughout the weekend, or view it online.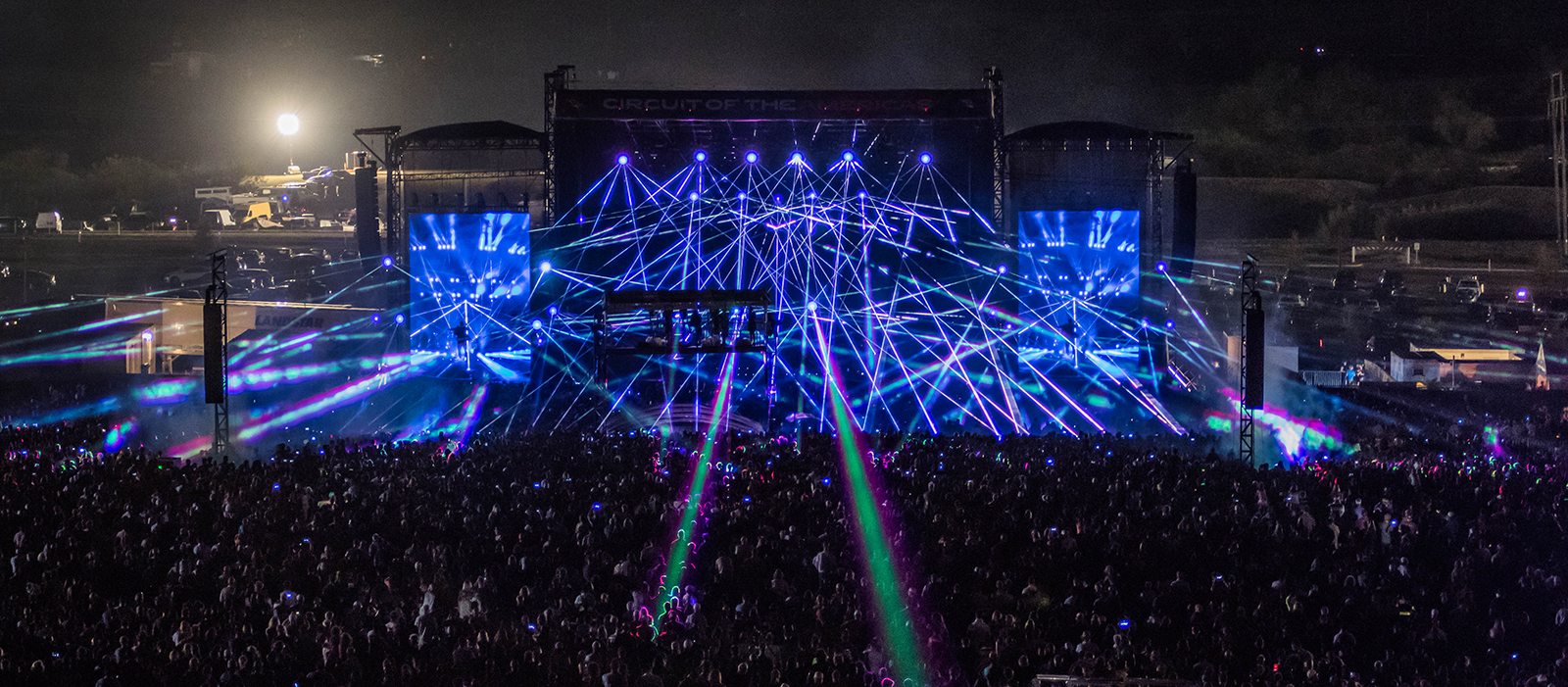 BRUNO MARS AND BRITNEY SPEARS SUPER STAGE CONCERTS
Both concerts will take to the COTA Super Stage on the Festival Lawn between Turn 11 and Turn 12. All holders of an F1 ticket receive access to the Festival Lawn for that specific day's performance.
• Saturday, October 20: Bruno Mars at 8PM
• Sunday, October 21: Britney Spears at 6PM

When to Get to the Super Stage
The Super Stage Festival Lawn gates will open approximately an hour after on-track activity ends that day (approximately 7PM on Saturday and 5PM on Sunday). Gate times are subject to change due to the logistics of quickly converting a Formula 1 track to a concert venue. Our guests' safety is paramount and gates will not be opened until the area is all set.
Guests who wish to queue early for either concert may do so beginning at 3PM Saturday and Sunday in the Circuit's infield across from the Support Paddock, noted on the below map as "Best Entry".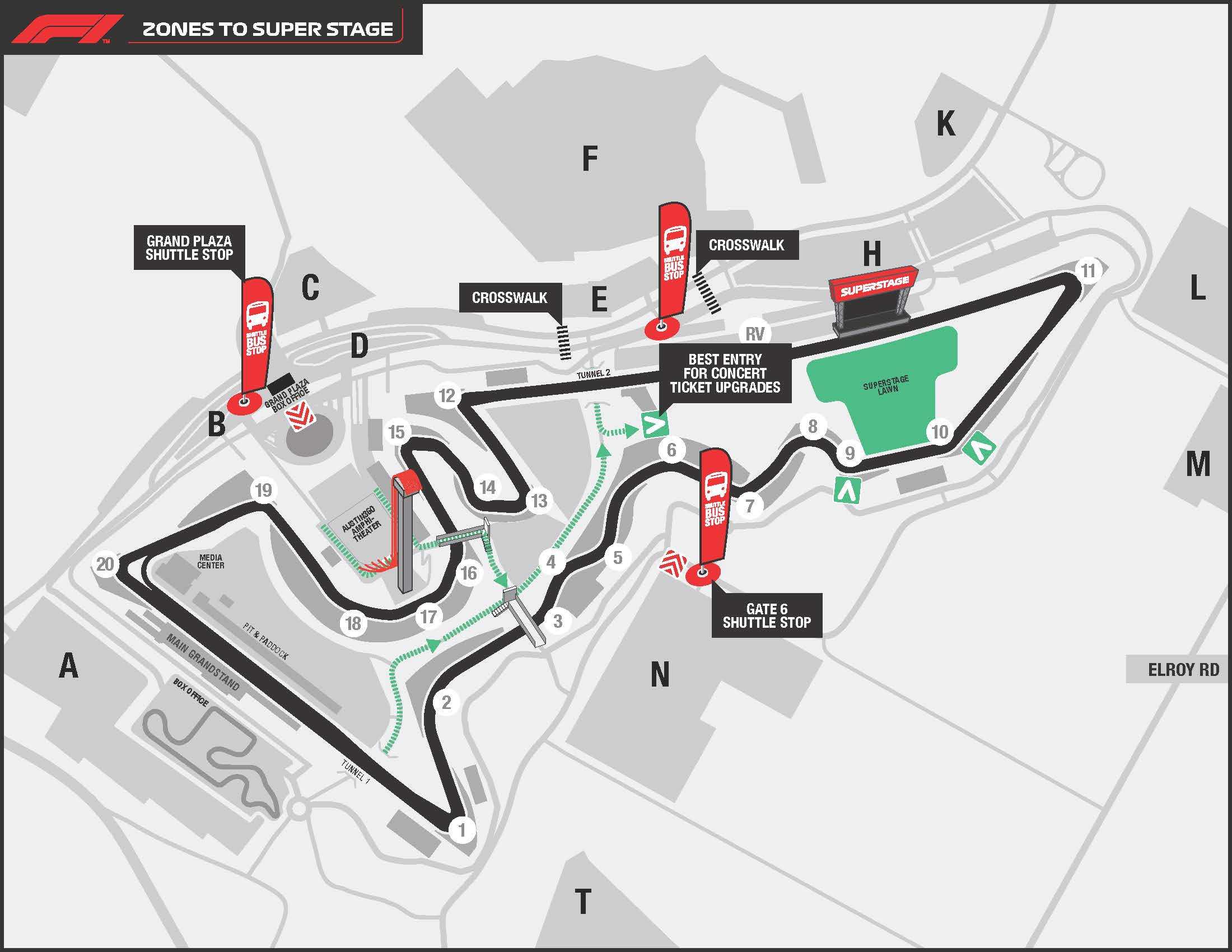 ENTERTAINMENT AND ACTIVITIES AROUND COTA
Download the COTA App to easily find all the entertainment activities and food options close to you on the map.
iPhone - COTA App | Android - COTA App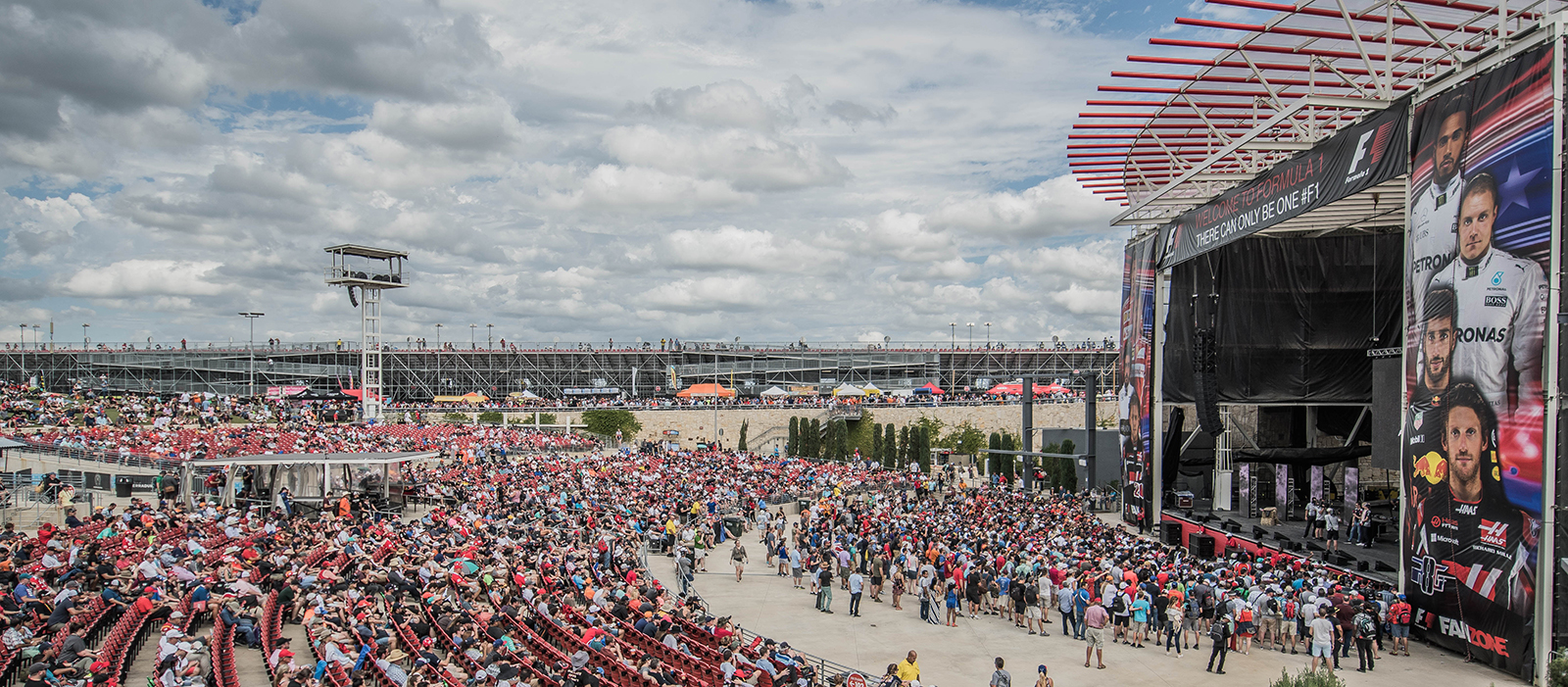 F1 Stage
Location: Austin360 Amphitheater
Want to see the drivers up close and out of their cars? You've got it. The F1 Stage provides a platform for Q&A sessions with your favorite stars of the track, as well as various talks from F1 personnel. Driver autograph sessions will also take place in this area.
Chat with Haas F1 Team's Guenther Steiner: Saturday, October 20 at 12:15PM. Get the lowdown on Haas F1 Team's best season yet straight from the head honcho himself.
Chat with McLaren Team Principal Zak Brown: Saturday, October 20 at 12:30PM. The McLaren head talks about what's to come for the legendary team in 2019 and beyond.
Driver Autograph Sessions
Location: Austin360 Amphitheater
Get ready to meet your heroes. F1 and Circuit of The Americas present the driver autograph schedule for the FORMULA 1 PIRELLI UNITED STATES GRAND PRIX!
Saturday, October 20
10:45 - 11:00 - WILLIAMS MARTINI RACING
11:00 - 11:15 - ASTON MARTIN RED BULL RACING
11:00 - 11:15 - SCUDERIA FERRARI
11:10 - 11:30 - HAAS F1 TEAM
11:25 - 11:40 - MERCEDES-AMG PETRONAS MOTORSPORT
11:30 - 11:45 - RACING POINT FORCE INDIA F1 TEAM
11:30 - 11:45 - ALFA ROMEO SAUBER F1 TEAM
18:40 - 19:00 - MCLAREN F1 TEAM
19:00 - 19:20 - RENAULT SPORT FORMULA ONE TEAM
19:05 - 19:25 - SCUDERIA TORO ROSSO
A wristband is not required and there are no queue lines. Drivers will enter the Austin360 Amphitheater pit behind a barrier and fans are welcome to line the barrier to receive an autograph. Drivers will sign as many autographs as they can during the allotted time for their team.

Kids 12 and under are invited to the Kids Zone, and exclusive area in the pit at Austin360 Amphitheater for future champions to get up and close with their favorite drivers!
Please note: the driver autograph sessions schedule is subject to change. Bookmark this page or check the COTA App for the most-up-to-date schedule.
Tower Experience
Location: Behind Austin360 Amphitheater
Take in one of the most breathtaking views in motorsports from 251 feet above the United States Grand Prix. Tickets are available at the base of the Tower for $30. If you're craving a VIP experience, you can receive expedited entry and a champagne toast for $45 on Saturday and Sunday.
Friday, October 19: 9:30AM - 5PM
Saturday, October 20: 9AM - 4PM
Sunday, October 21: 9AM - 5PM
Please note: operating hours and closures are subject to change without notice.
Haas Hill
Location: Between Turn 18 & Turn 19
Enjoy the race with fellow fans excited to cheer on home-country heroes, Haas F1 Team! Haas Hill is situated between Turn 18 and Turn 19 with great views of the on-track action and a whole lot of red, white and blue pride! Plus, you just might see some very familiar faces during the weekend on Haas Hill...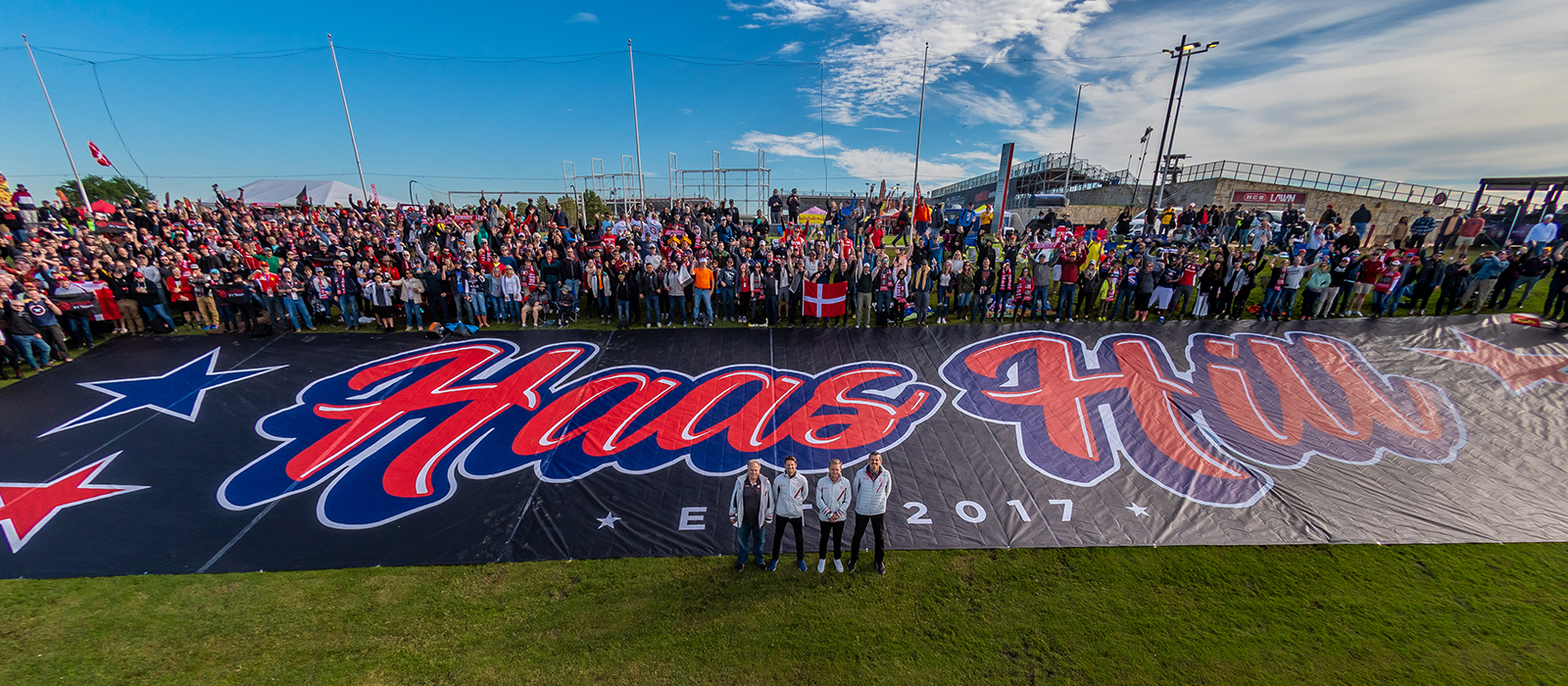 COTA Karting
Location: Lot A
Come and race it! COTA Karting is open from 10AM to 10PM each day of the USGP exclusively for Formula 1 ticketholders. Book in advance at cotakarting.com.
Please arrive an hour prior to your scheduled karting session to secure your seat. No refunds will be issued for missed sessions. In the event your session is cancelled due to weather, COTA Karting will issue a refund to your original method of purchase within 4-5 business days.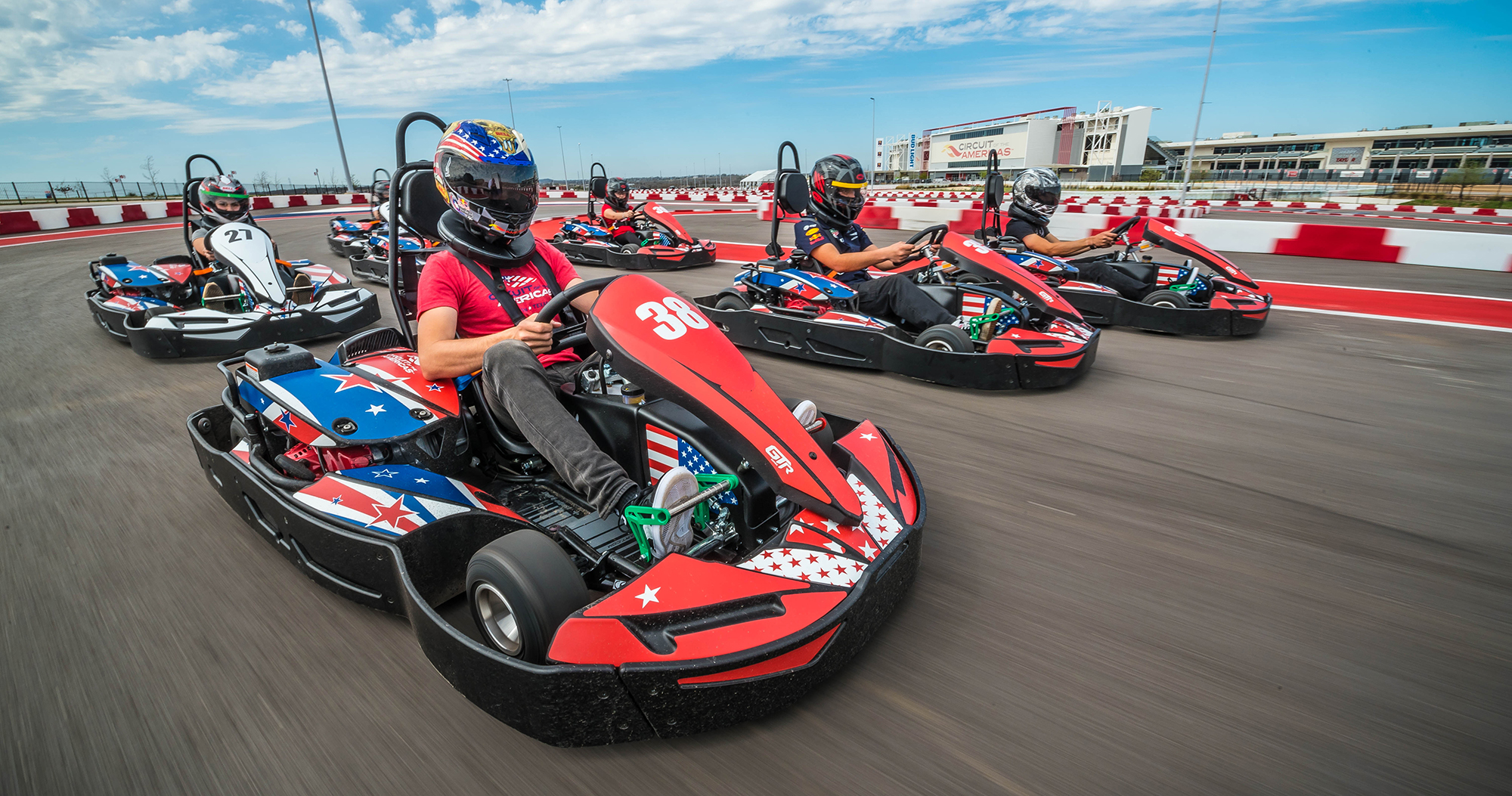 Zip Line
Location: Main Grandstand East
Experience the USGP from a whole new angle when you soar high above COTA on our brand new zip line! Visit the East side of the Main Grandstand any time from 10AM to 10PM on all three days of the USGP to take flight. $25 per person on Friday, $30 on Saturday and Sunday.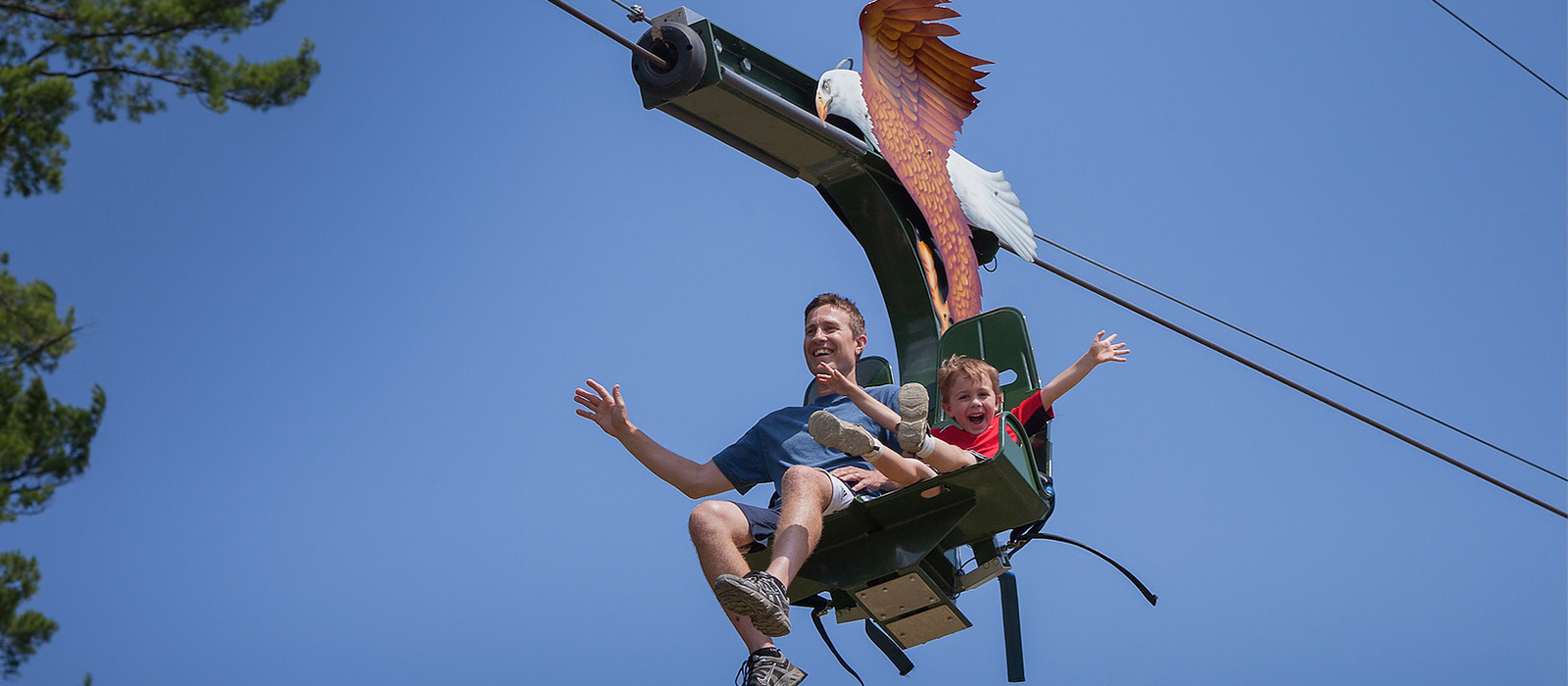 F1 Fanzone
Location: Grand Plaza
The F1 Fanzone, located in the Grand Plaza, is a space for fans to experience Formula 1 like never before. This area is open to all attendees to explore and engage with activities that will get you closer to the sport.
F1 Esports
Location: Grand Plaza
Come race against 15 other competitors on the Official F1 game. Daily battles will take place with the 10 quickest driver each day battling it out in a final match to win an F1 paddock tour.
A separate contest will run throughout the weekend with the opportunity to win additional prizes. A lap time will be set to beat by the 2017 E-sports winner Brendon Leigh and any fans who beat that time will win a prize!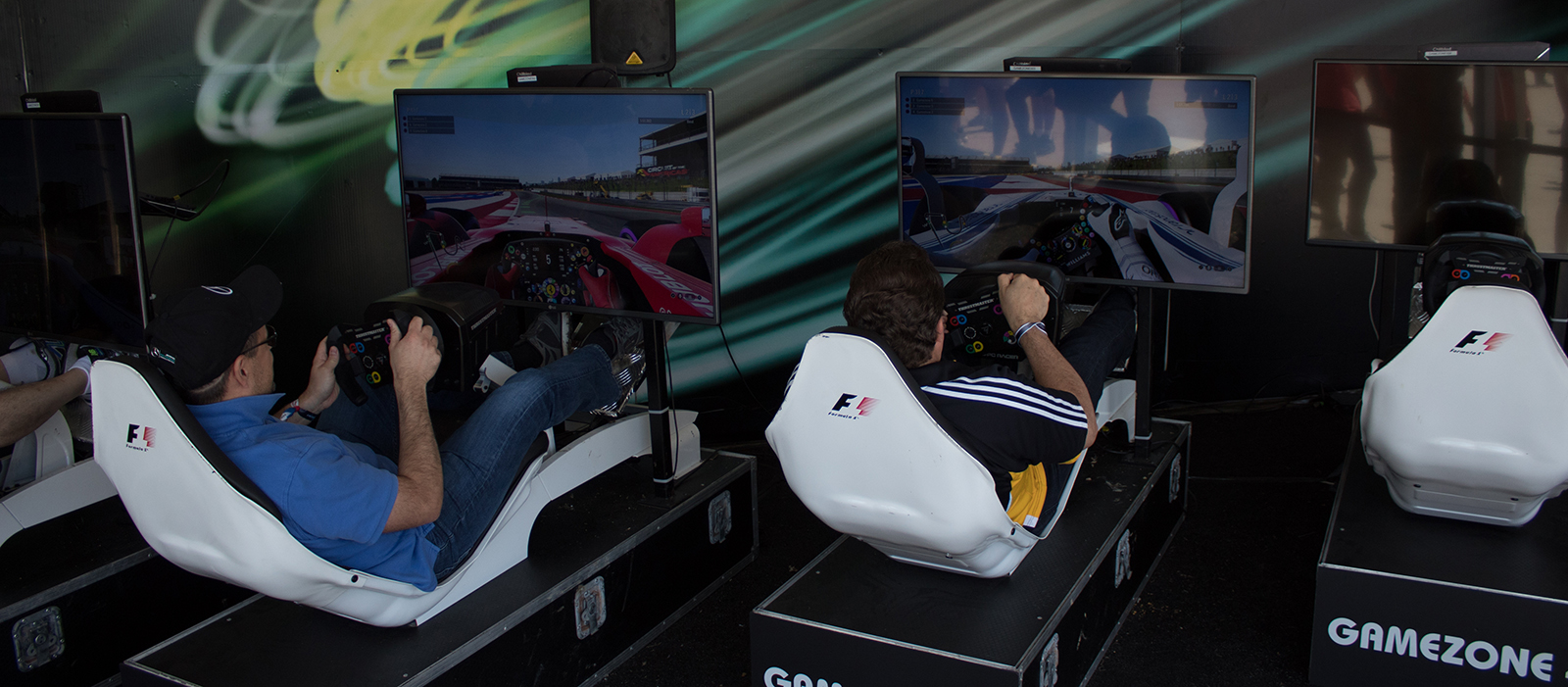 Pitstop Challenge
Location: Grand Plaza
Could you make it as an F1 team's pitstop crew? The Pitstop Challenge gives 6 teams of 6 fans the chance to compete against each other in a knockout competition changing the Pirelli tires on an F1 car.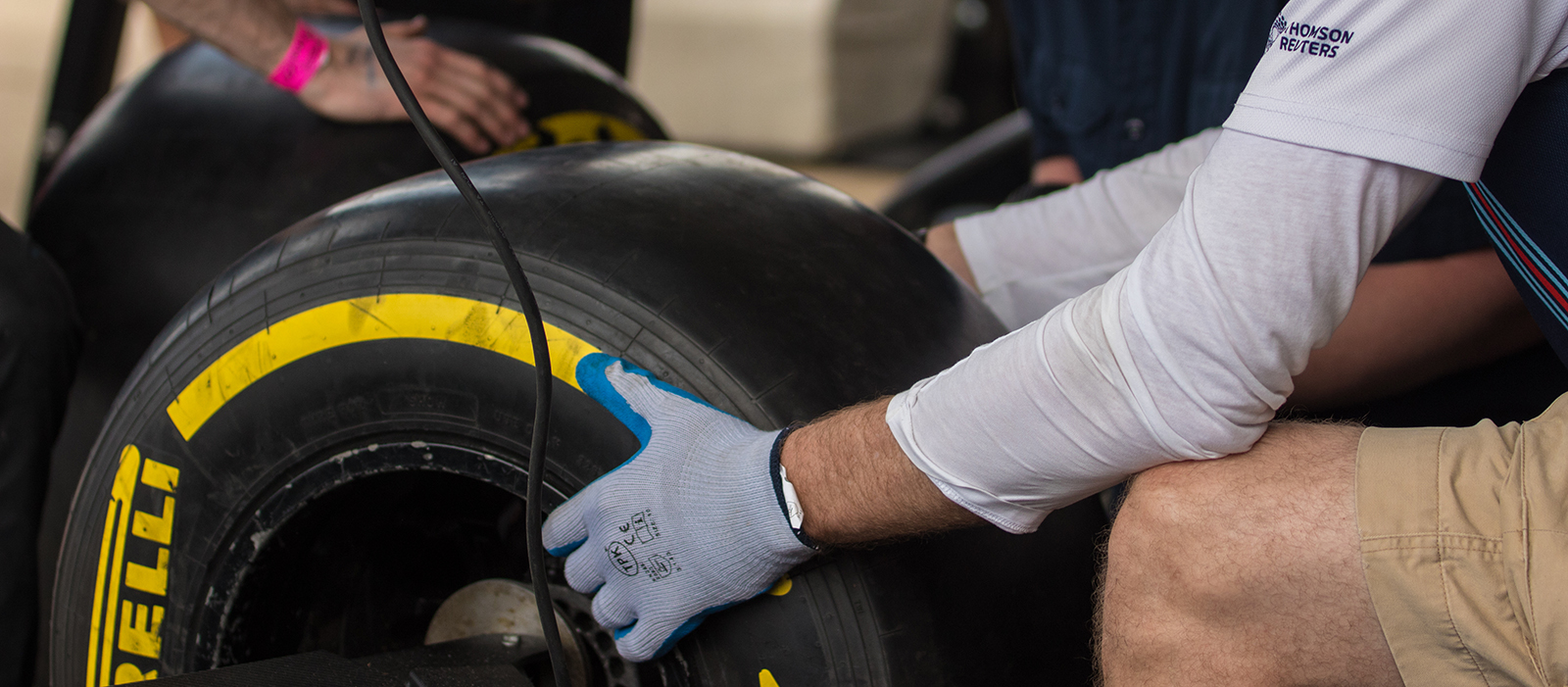 Fitness Challenge
Location: Grand Plaza
Drivers need to be world-class athletes to compete in Formula 1. In the Fitness Challenge fans can learn how F1 drivers prepare to be in peak condition for racing and complete several activities to compare your fitness level compared to an F1 driver.
After completion of the Fitness Challenge, fans can post their "F1 fit" score to social media for the chance to in a special prize.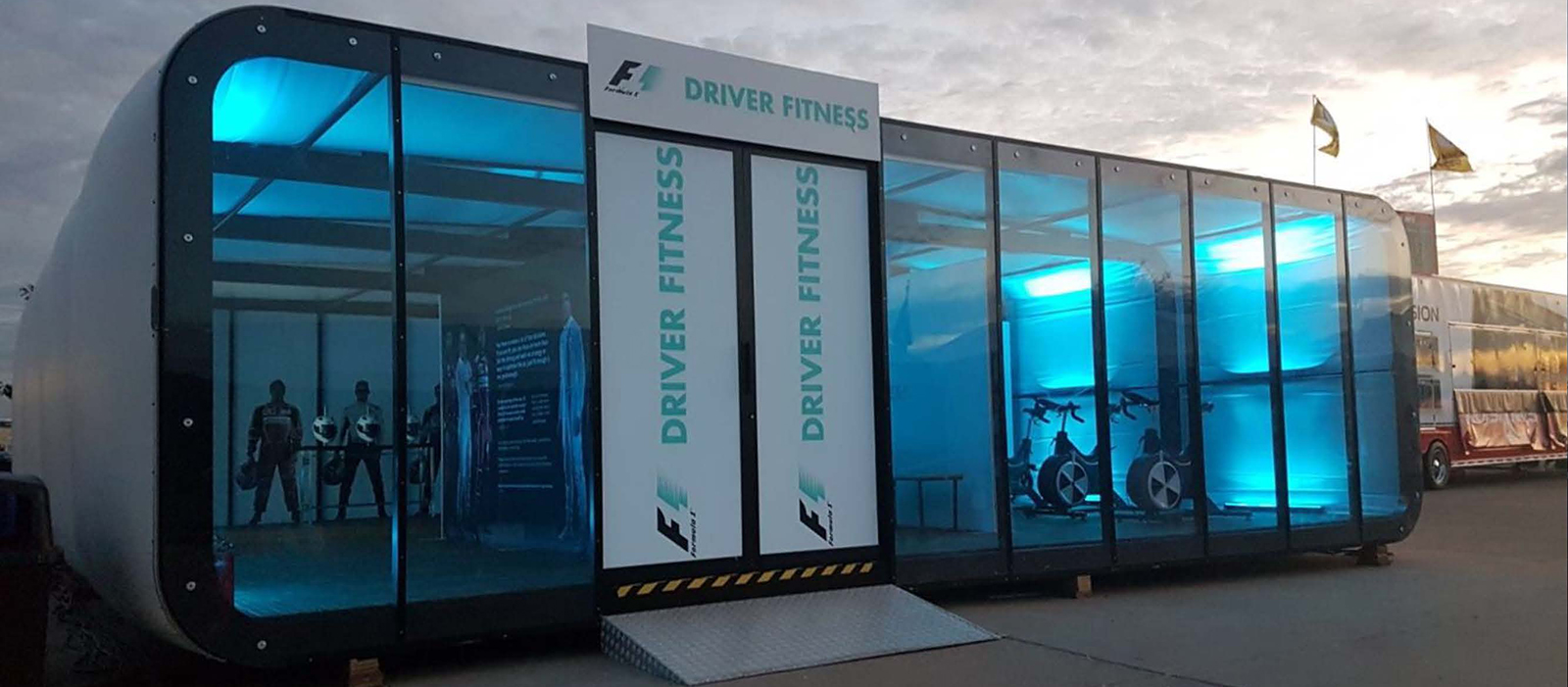 Reaction Challenge
Location: Grand Plaza
F1 drivers have some of the quickest reaction speeds in the world. The Reaction Challenge gives teams of 4 the chance to test their reactions against flashing lights on an F1 steering wheel in the space of 1 minute. The top team each day will be rewarded with a price from F1.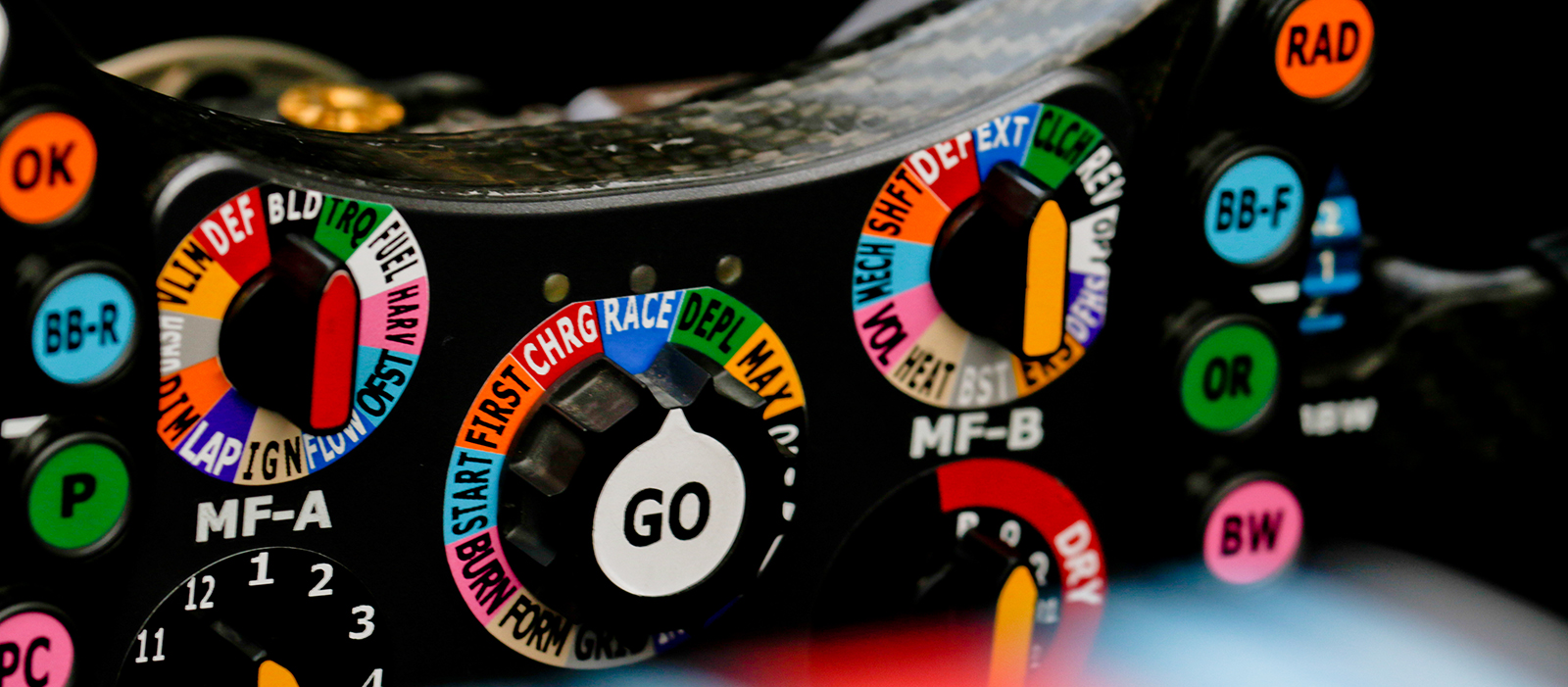 News Challenge
Location: Grand Plaza
See if you have what it takes to be an F1 commentator. Choose from available memorable moments from the Grand Prix weekend and wow your fictional audience with an engaging commentary. Get creative! You'll receive a recording of your commentary clip to share for the chance to win a prize.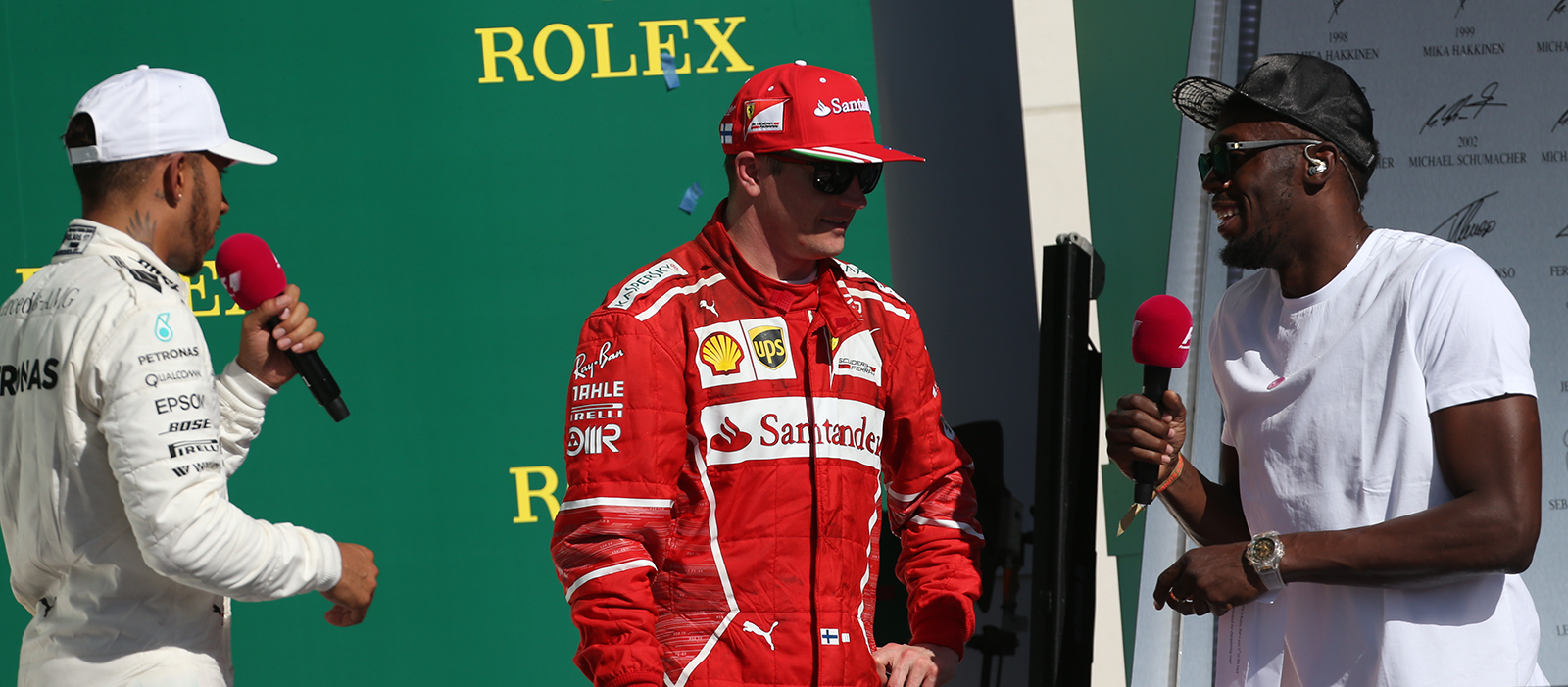 F1 Bobbleheads

Location: Grand Plaza
Be on the lookout for your favorite drivers roaming the Grand Plaza in bobblehead form. Don't forget to snap a photo with any of the F1 drivers you see – there very well could be a prize in it for someone who captures them all.
The American Soundtrack
Location: Grand Plaza, Turn 3, Turn 7, and Main Grandstand (Saturday & Sunday)
Music is embedded deep in the heart of Austinites. Our beloved city has earned and continues to embrace the title of Live Music Capital of the World, and we're proud to bring that tradition to life at the FORMULA 1 PIRELLI 2018 UNITED STATES GRAND PRIX. With stages around every corner and live music from more than thirty artists all day Saturday and Sunday, you're bound to find your new favorite band at COTA. Learn more about the bands and see the schedule here.

Alfa Romeo
Location: Grand Plaza
Stop by the Grand Plaza to meet the Alfa Romeo family, including the Giulia, the 2018 Motor Trend Car of the Year, and Alfa Romeo's Sauber F1 Team Race Car. Guests can enjoy complimentary beverages and giveaways, all with a prime view of Turn 19!

The Texas Lottery
Location: Grand Plaza
Test your luck and spin the big wheel at The Texas Lottery trailer in the Grand Plaza to earn prizes, or purchase the Circuit of The Americas Fast Cash Multiplier Ticket for a chance to win a VIP Experience for your next trip to COTA!
Circus Picnic
Location: Grand Plaza
Hear ye, hear ye! Prepare to be amazed by the daring acrobatic duo of Circus Picnic! Head over to the Grand Plaza to catch two separate performances each day, including a set by an accomplished contortionist!

Pizza Hut
Location: Turn 3, Grand Plaza, Main Grandstand
Need to refuel during race weekend? Pizza Hut's pit crew can help! Just visit the Pizza Hut semi at Turn 3 or any Pizza Hut concession around the track.
Earplugs courtesy of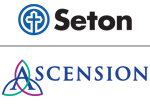 F1 races produce 130 decibels (dB) along the track and sometimes up to 140 dB, which is as loud as a jet taking off! Be sure to grab ear plugs from a Seton Ascension Ear Plug Station around the track to prevent potential hearing damage.
Maui Jim Sunglasses
Location: Grand Plaza
Show off your Maui Jim Sunglasses in an interactive photo booth to share with 'Ohana. Don't have any? Purchase a pair in the Grand Plaza from Maui Jim's diverse collection.
The Bike Zoo
Location: Grand Plaza & Main Grandstand
Back by popular demand, The Bike Zoo will be a sight you won't forget. These interactive, hand-built creatures will be roaming around and ready for their close-up. Take a selfie with the Bald Eagle or tap into a Texas state of mind with their latest structure, The Giant Armadillo.

Caulipower Pizza
Location: Grand Plaza
Trade in some horsepower for Caulipower and visit the Cauilpower pizza truck in the Grand Plaza for free slices, fun contests and prizes, and the relaxing Veg Out Lounge!

Diageo
Johnnie Walker Red is the pioneer blend that introduced Johnnie Walker Whisky to the world and is now the best-selling Scotch Whisky around the globe. Sample a Johnnie and Ginger cocktail at six locations around the Circuit during race weekend!

Slingshot
Location: Grand Plaza
Experience the ultimate open-air roadster in the Grand Plaza. The 3-wheel Slingshot takes motorcycling to the next level.


Topo Chico Mineral Water
Location: Turn 12
Stay refreshed by sampling mocktails created with Topo Chico Mineral Water, still bottled at the source. Swing by for some samples and Topo Chico swag.

OSD - Operation Supply Drop
Through a partnership with The Texas Lottery and Operation Supply Drop, hundreds of the Military community will have a chance to experience the biggest race weekend of the year. Don't forget to thank a Veteran for their service if you see one around the track!

Carrera Sunglasses
Location: Turn 12
Since 1956 Carerra Sunglasses has been for people who live by their own rules. Drive your story at the Carerra booth in the Vendor Marketplace.

Koni Shocks
Location: Grand Plaza
Visit Koni Shocks in the Grand Plaza to see a Racing Point Force India F1 team car and learn how Koni's shock absorbers can provide optimum handling for both a Formula 1 team and your ride.

Hi-Dow Pulse Massagers
Location: Turn 12
Need a break? Stop by the the HiDow tent in the Vendor Marketplace to demo their electronic pulse massagers so that you can keep going!

Hope Galley
Location: Turn 12
Take a walk through Tunnel 2 and check out the custom art mural or visit the Turn 12 Courtyard to see COTA's open-wheel racing car painted by artists from the Hope Gallery, an Austin non-profit driven by inspirational, positive, and educational messaging.
Seton Charity Auction
Location: Turn 12
Stop by the Seton Charity Auction in the Vendor Marketplace at Turn 12 to bid on unique, one-of-a-kind photos taken and signed by the stars of Formula 1! Proceeds will benefit Dell Children's Hospital.

Tito's Handmade Vodka
Location: Turn 15
Swing through the Tito's Stillhouse Lounge behind Turn 15 Grandstands for specialty craft cocktails featuring Tito's Handmade Vodka – America's Original Craft Vodka – proudly distilled in Austin, Texas.

Silverwolf Cowboy Hats
Location: Turn 12
It wouldn't be a Texas event without cowboy hats. Swing by Silverwolf Cowboy Hats to get the ultimate Lone Star State souvenir. With multiple brands for you to choose from, you can truly let your inner cowboy loose in style.
Embraer
Location: Turn 19 (Sunday Only)
Step inside a new way to fly with the Phenom 300E by Embraer, the best-selling light business jet in the world.
Fan Track Invasion
Location: Main Straight (Sunday Only)
Celebrate on the starting line with your champions! After the checkered flag flies on Sunday, fans will be invited onto the grid for the podium ceremony and to walk the same track that challenges the world's greatest drivers.
Fan Track Invasion entry points: Turn 19, Main Grandstand East, Main Grandstand West, Turn 1.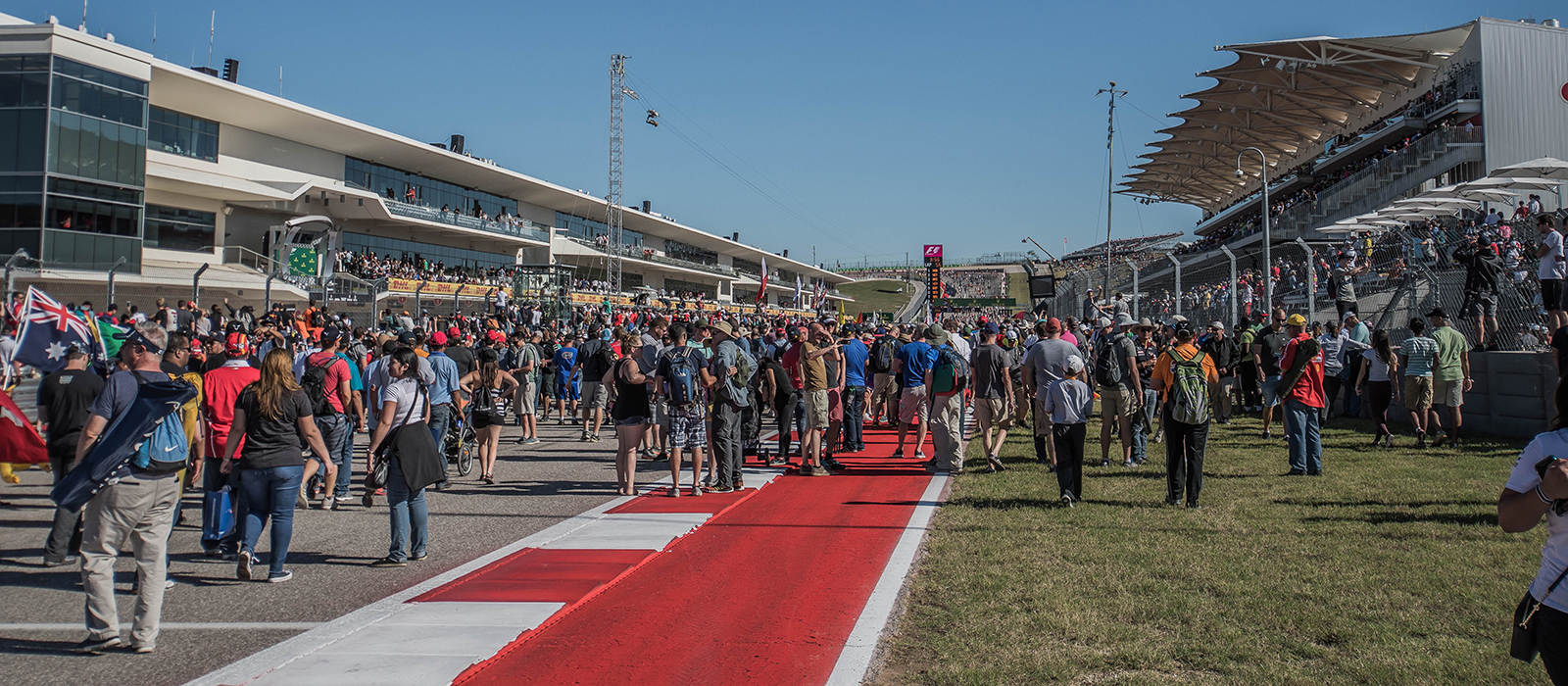 FOOD & BEVERAGES
Download the COTA App to easily find all food locations on a GPS map, look at menus and discover foods that fit your dietary preferences.
iPhone - COTA App | Android - COTA App
EVENT SAFETY INFO
Our guests' safety is of the utmost importance. All guests will be screened by security upon entry. Please provide ample travel time and allot venue entry time when planning your schedule for the weekend.
Please adhere to safety guidelines and leave all prohibited items at home.
Prohibited Items
Alcoholic Beverages
Animals (exception for certified service animals)
Aerosol cans (including spray sunscreen)
Bags or parcels larger than 12X12X20 inches
Bicycles, scooters, skateboards, skates, Segways, golf carts or other unauthorized means of transportation
Coolers, thermoses or ice chests
Distribution of unauthorized promotional or commercial material
Drones
Food and Beverage (Note: sealed, individual, plastic bottles of water are allowed – one per person)
Fireworks, explosives or other incendiary devices
Glass or metal containers of any style
Illegal substances
Items that may be deemed a safety hazard or annoyance to participants or guests (balls, Frisbees, balloons, projectiles, horns, radios, bells, whistles, musical instruments, laser pointers, etc.)
Large, golf-type umbrellas
Non-collapsible chairs
Selfie Sticks
Tents or canopies
Video cameras, audio recording devices and tripods; no video recording will be allowed
Weapons of any kind, including guns, knives, pepper spray, handcuffs, nightsticks or other items
Posters/Signs
Unless otherwise specified by event management, Circuit of The Americas welcomes small signs, banners and posters at races. Please review the following guidelines related to those items:
Item must be related to event
Item may not be attached to a stick/pole
Item may not be larger than 11" x 17" when open
Item may not obstruct any sponsor/advertiser signage
Item may not be hung, attached or displayed on any part of the venue that includes Circuit or sponsor signage
Item may not contain or display obscene/offensive language and/or pictures, as determined by COTA management
Item may not be constructed or displayed in a manner that may obstruct the view of other guests, or in any way create a safety hazard for others as determined by COTA management
Guests may not distribute pamphlets, advertisements, brochures or other promotional materials while inside the venue without prior approval from COTA management
ADA ACCESSIBILITY
Providing a world-class experience to all is paramount to Circuit of The Americas. We recognize the diverse needs of thousands of our guests and are here to support all guests' experiences by providing a range of accommodations to ensure all our guests create wonderful memories to last a lifetime.
Circuit of The Americas is an accessible, but large, venue. Guests should be prepared for traversing long distances and anticipate using our transportation network for additional mobility support. We encourage all guests to dress for success: we suggest comfortable shoes, clothing, hat and whatever supportive devices you may need.
For guests who find the distances challenging, we have numerous seats and picnic tables located around the circuit to take a break. They can be accessed easily by those persons using walking aids such as crutches, sticks or walkers. This event will be particularly busy, and guests may want to bring fold up chairs or alternatives to mobility just in case. Please note: personal chairs will not be permitted in the reserved seating areas.
Please head to our USGP ADA Accessibility page for specific information to help you plan ahead and have a wonderful time at COTA.
ON-SITE ASSISTANCE
If you need assistance at any point while you're at Circuit of The Americas, swing by a Guest Services Tent (view map for locations, or check the COTA App). We're here to help you have a great time and answer your questions! If you aren't near a Guest Services Tent, send us a text at 69050 with "COTA" followed by your request or question. If it's a location-based inquiry, please also include your location.
SEE YOU SOON!
We look forward to sharing the biggest party of the year with you, and welcome you to share your experience with us on social media throughout the weekend with #COTA.